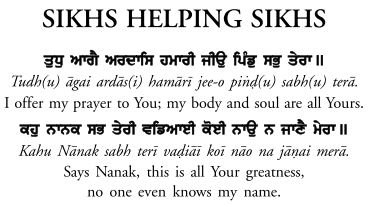 What should be SHS?
Sikhs Helping Sikhs (SHS) should be Sikh based, non-violent, non-profit organization that would aim to benefit lives of Sikhs and unite them in the process. It should be an organization where its members work towards benefiting each other with the desire of forming a strong quality, high integrity, loyal and religious minded community. It should help all races and religions through its charity trust. The establishment should have 3 objectives and 3 conditions.
What should be the objectives of SHS?
Enrichment of Sikhs

Enrichment of Sikhism

Help for all mankind


What should be the conditions of SHS?
All Sikhs are obligated to save 10% of their earnings (dasvandh) as ordered by Guru Gobind Singh Ji for charity purposes.

All Sikhs hereby acknowledge that Sri Guru Granth Sahib Ji is their supreme Guru.

All Sikhs acknowledge there is One God for all.


What would we gain from SHS?
The gains would be so numerous that it would be difficult to put all of them down. However, some of the obvious benefits would be:
Eliminate Poverty (also for non-Sikhs)

Providing Support, Strength and Hope

Training and Education

Employment Opportunities

Migration

Social and Family Values

Psychological Assistance

Religious Support

Financial Support

Matrimonial Services

Educational Financial Assistance
e.g. Think of the children of the rickshaw driver, if he could avail the opportunities provided by SHS then it would result in his children becoming educated and achieving success and wealth. These kids would also be second generation members of SHS and would be contributing to changing the lives of other Sikhs.
How did the idea originate?
In November 1991 while doing Ardas in Guruji room, a thought came to my mind to ask Waheguru Ji for a wish. On the following days the same thought would come everytime I did my ardas. I started to contemplate what I should ask for. One day while doing my ardas I realised I was already making a wish, asking God to show me a way that with one action the lives of millions of people all over the world could be changed, especially those living in extreme poverty.
During the next 8 years of doing my Ardas and asking God everyday to show me the way, a picture started to appear in my mind. It took a visit to Sri Harimandar Sahib for the final piece of the message to complete the picture.
It was 7a.m. in the morning after Asa Di Var when we were looking for a taxi to take us to the hotel from Sri Harimandar Sahib. However, there were no taxis so we took several rickshaws. My driver was a Sikh whose age looked between 35-40 years, he looked married with possibly 2-3 kids at home and his living was afforded by driving the rickshaw. Feeling sympathetic for him I asked him if he owned the rickshaw, he said it was rented. After talking to him I came to know that he paid Rs.10 a day to hire the rickshaw and a new one would cost Rs. 3000. At this point, the first thought that came to my mind was that a Sikh brother of mine is bonded by the chains of poverty, something he will never be able to escape from. I felt like giving him the money to buy a new rickshaw and doing a good deed. But the size of the deed needed to be multiplied many times so that all our Sikh brothers and sisters could be released from the chains of poverty.
In my explosion of thoughts in that moment every- thing came together. The missing piece of the puzzle was before the eyes of my mind. I was ecstatic and kept thanking Guruji endlessly. After 8 years everything was clear, I could see the picture now and what I saw was that one day there would be no Sikh coolie at the train station, no Sikh rickshaw driver, no Sikh scooter driver. SHS would have provided the doorway for them to escape poverty.
With much humility I want everyone to know that this is not my idea and it does not belong to me, it belongs to all of us. I will endeavor to express the message that has come to me as best as possible. I have named this message SHS.
It is clarified that what I am going to describe below is only a dream, a reality in waiting, a wish. When Sikhs Helping Sikhs begins to happen, then may be one day this can be a reality. May one of you be empowered by Guruji to bring this dream into a future reality.
How can SHS help?
This could be a common case scenario if SHS becomes a reality
I am a university graduate with a degree in Computer Engineering and have just joined the workforce. I am looking for advice and opportunities in the workforce so I go to SHS office in New Delhi and meet with consultants who take my biodata down. I am informed about the conditions, objectives and opportunities that SHS would make available to me such as migration, further education, employment and support. I signed up and asked about assistance in migrating overseas and was informed that the SHS office in the country I choose to migrate to would assist me in any and every way. I was interested in migrating to Australia but was told that employment opportunities in my field of expertise were limited due to an over supply of capable employees and limited jobs. I took the advice of the consultants and took their help to find a job in computer engineering in New Delhi as to gain experience in the field I am educated in and to keep exploring the opportunities the SHS network worldwide had to offer. I am now an SHS family member and give 10% of my earnings. I earn 15,000 rupees a month and after expenses net 7000 rupees dasvandh factor 700 rupees
The Vision
I see thousands of Sikhs working together in SHS Offices in every major capital city in the world. Each office to house over many companies owned and managed by Sikhs.  Every company will have many offices worldwide. All individually owned and working and promoting one another.
Estimated number of SHS Offices worldwide: Many hundreds.

Estimated group turnover of SHS: $ 100 billion.

Worldwide Dasvandh Factor: $ 100 million.
How do we create a structure that will bring to life this vision for every Sikh in the world ? How do we create a structure that can safeguard our money and ensure that it is used according to the objectives of SHS? How do we protect ourselves from those who are corrupt and would work against this vision, including those who become family members of SHS? These points and many others are in need of discussion and solution.
Compassion towards all of mankind is the very essence of the teachings of our Gurus,  in  helping ourselves we will be able to help all othe races and religions irrespective of caste or color. Poverty is an ocean and in our journey on Earth if we are not short of effort then we have done our best and it will be counted in the House of God.
In conclusion,  we  the  sons  and daughters  of  Sri Guru Gobind Singh Ji, should realize the mission of our Guru  to  be  united  towards  charting  our  future  in becoming  economically  and  spiritually  sound  world- wide, in every country, in every city, in every suburb, in every house and in every family. May Waheguru show us the success of Sikhs Helping Sikhs (SHS).

O Inner-knower, Searcher of Hearts, O Primal Being,
Architect of Destiny : please fulful this yearning of my mind.
Nanak, Your slave, begs for this happiness :
let me be the dust of the feet of the Saints.4.5.
May Waheguru show you the way !
Yours Humbly,
Jatinder Singh
Who should be the benefactors of SHS and what should be their role within the organization? (When SHS becomes a reality)
Benefactors of SHS would be people who already have businesses and would like to contribute 10% of their earnings and adopt the conditions and objectives of SHS. For example:
I am a businessman in Delhi and was approached by SHS. After several meetings I decided to become a family member of SHS and donate 10% of my earnings (dasvandh) to help enrich other Sikh lives. I deal in steel utensils and my export is approximately 50 crore rupees. I have an office in New York and most of my business comes in America. Being a family member of SHS availed me the opportunity to market my product through SHS offices around the world. In projection, I realized that I could increase my turnover immensely. The only irony I felt was by contributing dasvandh I was going to receive much more in return.
What should be the structure of SHS?
The SHS structure should be a 2 tier structure Where Tier 1 should be The SHS Church Structure and Tier 2 should be SHS Business structure with SHS Church structure sitting on top of the SHS Business Structure.
Church ofEngland is the biggestworldwide organizational structure which owns hundreds of companies dealing in thousands of products & services. The SHS structure should be similar to the Church of England structure.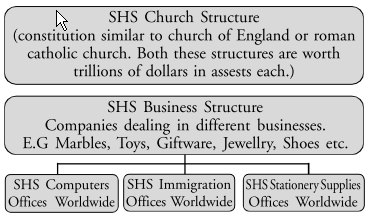 Below are some examples of how the businesses and/or individuals should operate. This is not a reality but a vision waiting to come true.
1. SHS computers Melbourne branch is dealing in computer hardware and associated services. The company has employees of different races including Sikhs, is owned by Sikhs and is run by Sikh management.
Estimated turnover for 1 year : Approx 5million dollars

Gross Margin : $ 1million

Net margin is $ 250,000

Dasvandh factor is $ 25,000.
SHScomputers Sydney branch has a similar business, SHS Computers Auckland, Christchurch, Fiji, Singapore, New York, L.A etc. Approximately 313 offices, each doing the same business, each individually owned by Sikhs and all joining together, buying together from Taiwan/China negotiating the best price on components and all exchanging information to benefit each other.
Estimated total turnover worldwide of SHS Computers: $ 1billion dollars

Estimated gross profit: $ 200 million

Estimated net profit: $ 100 million

Dasvandh factor: $ 10 million
2. I am a Sikh taxi driver in Melbourne; I have been approached by SHS to join. I have a loan from the bank of $ 80,000 paying an interest rate of 11%. By joining SHS and bulk borrowing my interest rate drops to 6.5% also serviced contracts and petrol buying can be bought in bulk saving me money. In the end I calculated my dasvandh was 10% and my saving was greater than my dasvandh so I decided to join SHS Taxis Melbourne. I was placed with a group of 30 other members of SHS Taxis Melbourne and as a group we would meet once a month and would receive a newsletter once every 10 weeks. Our group had one mukh sevadar who was in charge of our group and would report back to Melbourne SHS head office. SHS Taxis Sydney, Perth, Brisbane, and Adelaide etc. have a total membership of 220 drivers and through the newsletter we learn about the 21,000 thousand Taxis drivers who are SHS members worldwide. Every member with the same objective; enrichment of Sikhs, enrichment of Sikhism. Every member giving dasvandh.
Dasvandh factor each approx : $ 2000 *21,000 members

Total Dasvandh factor of SHS taxis : $ 42 million.

This shows the power of unity.
3. I am a Sikh graduate in Los Angeles with a degree in International Business and want to start up my own business. I heard about SHS and went to the LA office to ask for guidance and assistance. After meeting a few consultants and going through a screening process I signed an undertaking acknowledging the conditions and objectives of SHS. I was given a list of SHS family businesses I could enter into. I chose SHS stationery; I was put into contact with SHS stationary businesses that were already operating in other parts of the all of the United States and in other countries. SHS helped me to set-up a credit line and with an input of my own capital I started to set-up an office in LA for SHS Stationery. I received beneficial information from the other SHS Stationery Offices which included catalogues, suppliers, product lines, costs and selling prices etc. I also receive a SHS Newsletter every 3 months with information of other Sikh businesses, success stories, new opportunities available and the growing number of members within the SHS community. I also received advice in how to best market the product. Going to Gurdwara I asked Gianiji to do Ardas before I start my business. I am now highly successful and am able to help and employ other Sikhs. I also employ many other staff of different religions.
My turnover : $ 10,000,000

Net Profit : $ 1,000,000

Dasvandh factor : $ 100,000.

Global turnover : $ 3 billion for SHS Stationery

Dasvandh factor : $ 60 million
All SHS businesses will be inter-connected. For example SHS Stationery supplies will supply their products to all businesses interested in their company but also to Sikh businesses. The aim is to keep money circulating throughout Sikh businesses in order to help them grow and expand resulting in hiring more employees. The structure will be similar to the above example on computers also.
PLEDGE BEFORE THE GURU
The Lord is One and the Victory is of the Lord
After first contemplating the Primal Power of the Almighty, call to mind Guru Nanak. Then let your  mind dwell on Guru Angad, Guru Amar Das and Guru Ram Das, may they watch over us. Meditate in remembrance upon Guru Arjun, Guru Hargobind and Siri Har Rai. Dwell upon Guru Har Krishan, seeing whom all sufferings shall depart. Meditate in remembrance upon Guru Teg Bahadur, and the nine treasures shall hasten to your home. May they protect and  help  us  everywhere. And the Tenth Master, Guru Gobind Singh Ji, father of the Khalsa who has blessed us with the gift of Amrit–may we enjoy his  protection everywhere.
Contemplating the recital and visioning ofthe living Guru—Sri Guru Granth Sahib,  embodying the Divine Light of the Ten Gurus, Your humble servant expresses multitudinous gratitudes for enabling, one to give your dasvandh to you.
O, the Dignity of the undignified, the Shelter of the shelterless, the Potence of the  powerless, the Refuge of refugeless, my True Father, Waheguru Ji ! I pray before You with utmost humbleness, to enable me to give your dasvandh to you in a separate account. Please show me the way how to use your money correctly. Please do not let me be ashamed in your court for neglecting this pledge. O, the Lord of all benedictions! Kindly give me the power to do this.
With Your Name, may we dwell in surpassing spirits.
While obeying Your Will, we seek welfare of all humanity.
Waheguru Ji Ka Khalsa,
Waheguru Ji Ki Fateh.